Product Description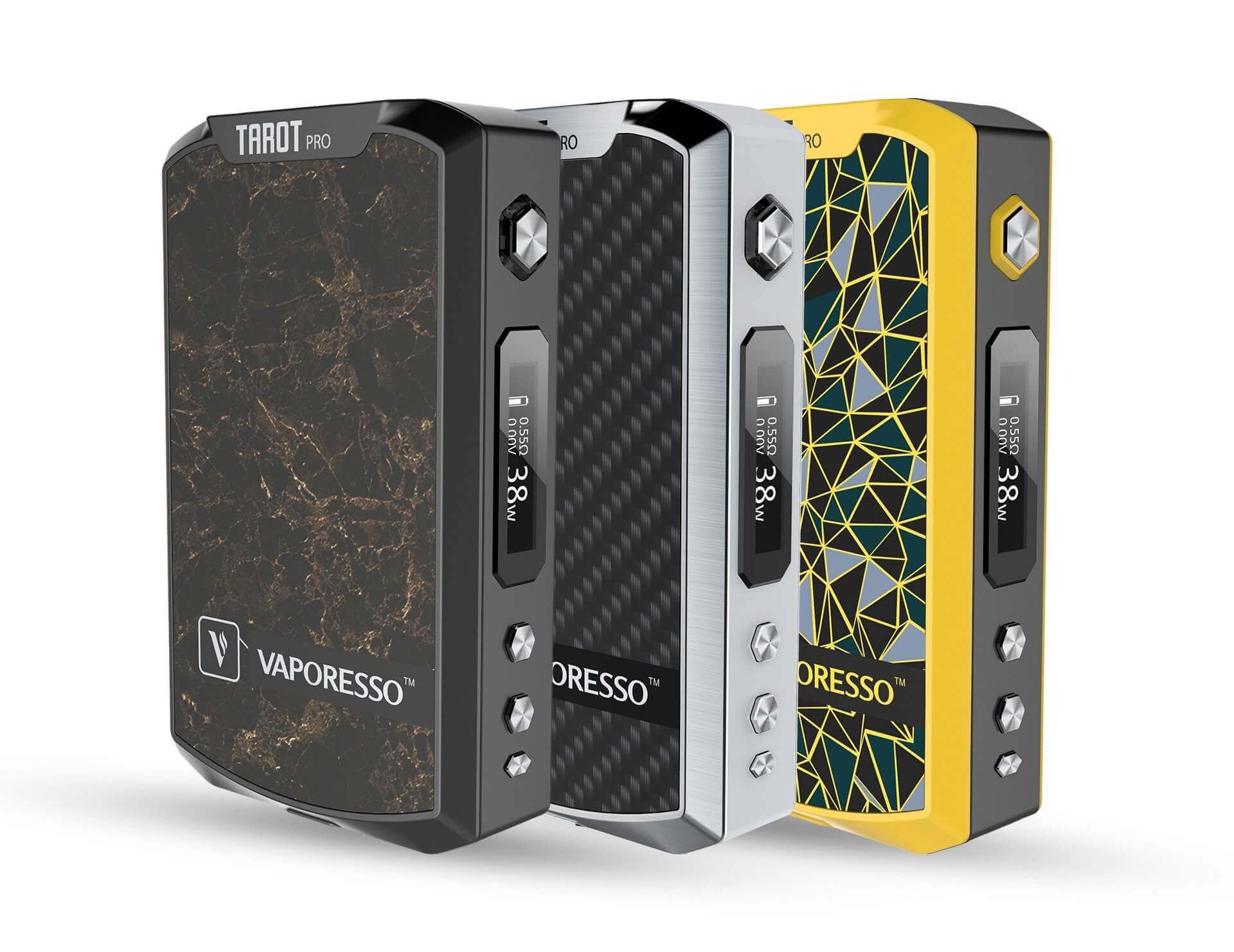 Vaporesso Tarot Pro 160W TC Box Mod
The Tarot Pro is one of Vaporesso's best vape mods, capable of a 160W output as well as offering automated settings for the most common TC modes (Ni, SS, Ti). This mod also caters for CT (Ni, SS, Ti) and CW functions and if you feel like an untempered vape, you can choose Bypass mode to practically turn your device into a mech-mod. The Tarot Pro comes with an all-new OMNI Board, guaranteeing a consistently reliable performance and an accurate, updatable and fully customizable firmware.
Dimensions: 93 x 57 x 23mm
Weight: 200g
Temperature Range: 140-315°C/280-600°F
Temperature Control Modes: Nickel, Titanium, Stainless Steel, and TCR
Output Wattage: 5-160W
Suitable Atomizer: 0.15-5.0Ω
Casting: Zinc Alloy, Aluminium Alloy, and Carbon Fiber
Thread: 510 Thread
Display: OLED
Standby Current: < 50
Voltage Range: 0-8.5V
Battery Cell: Two 18650 (Not Included)
OMNI Board
OMNI Board is the most comprehensive board that is included in Vaporesso premium mods, guaranteeing a consistently reliable performance with a scientific touch. As the foundation of every mod, it is geared towards both new and veteran vapers. The Omni board will supply you with 6 output modes: Smart VW/CCW/VT(Ni200/SS/Ti)/CCT/
TCR/Bypass. These modes cater for almost any kind of coil that you may be using. It also features multi protection functions for maximum battery life. The dedicated software would guarantee that your mod stays up-to-date and also can be used to customize the user experience. OMNI board, as the most advanced personal vaporizer board available, is set to refine your imagination of vaping.
OMNI Board's Advanced Settings
CCW:
As an advanced setting to VW, CCW stands for Customized Curve of Wattage. You could actually customize the curve of wattage, according to its respective second, up and down in a pattern with this setting. You will be able to select the output for every 1/2 second of the first 5 seconds to minimize ramp up time and maximize pleasure. It is like riding a roller coaster, an excitingly varied series of hits from a vape setting tailored by you that you can have as many times as you wish.
CCT:
As an advanced setting to VT, CCT stands for Customized Curve of Temperature. Have you been upset that the 1st few drags are not hot enough? Have you ever been burnt after vaping for a while? The CCT setting addresses these issues and gives you a truly free vaping experience. With the customized curve of temperature, you could have your 1st few drags at a higher temperature, and then automatically lower it so there's no risk of over-heating after a while. You are the true master of your mod, discovering the fun of vaping.
Smart VW
As an advanced variable output wattage setting mode, the SMART VW will automatically recommend the ideal output power setting for each resistance value when an atomizer is installed, avoiding burning the coil to protect your device and also saving your time and money. If you still prefer to change the output power, it will again save the changed setting automatically so that when you resume after power off it will start with your preferred setting. It is indeed a smart guard of your mod, always providing you with the ideal output power for your atomizer. Enjoy the SMART VW now.
TCR and Value Ranges For Vape Coils
TCR offers you the option to regulate your device to adapt to any coil type outside the options provided as TC (Ni, SS, Ti) by selecting the respective coefficient of resistance for the metal in use. Feel free to look it up!
Tarot Pro Protection Functions
Low Voltage Protection
Output short circuit protection
Low resistance protection
Overheating protection
Current protection
Load protection
Timeout protection
Anti-loaded battery protection
Advanced User Item. Use at Your Own Risk!
Please Note: Batteries must be matched in brand, model and battery state at all times. Discharge and recharge batteries within the same grouping of three. Failure to do so may result in injury. Never use damaged or improperly wrapped batteries with this device.
Vapor Fiend will not be held responsible or liable for any injury, damage, or defect, permanent or temporary that may be caused by the improper use of a Li-ion (Lithium-ion), LiPo (Lithium-ion Polymer) and any rechargeable battery/batteries. Please have a basic understanding of the batteries you are using and how to care for them properly.
Use special caution when working with Li-ion (Lithium-ion), LiPo (Lithium-ion Polymer) and any rechargeable cells, as they are very sensitive to charging characteristics and may explode or burn if mishandled. Make sure the user has enough knowledge of Li-Ion (Lithium-ion), LiPo (Lithium-ion Polymer) and any rechargeable cells in charging, discharging, assembly and storage before use. Always charge in/on a fire-proof surface. Never leave charging batteries unattended. Do not use any rechargeable battery as well as any battery charger if any visible damage is present, as well as if the cell or charger has been stressed through mishandling, accidental or otherwise, even if damage may not be visible. Always store and transport rechargeable cells in a safe, non-conductive container in a controlled environment. Dispose of all battery cells and chargers in accordance to local laws and mandates.
NOTE: Descriptions, specifications, and claims are based on manufacturer information. Information listed and provided are to be used at the sole discretion of the consumer and are not representative of analysis, testing, and verification by Vapor Fiend and any and all of Vapor Fiend parent and subsidiary companies. There is an inherent risk with the use of any and all rechargeable batteries in any circumstance. Vapor Fiend and any and all of Vapor Fiend parent and subsidiary companies are not responsible for damage if there is any modification of the batteries/chargers in any form or shape (including pack making). Vapor Fiend and any and all of Vapor Fiend parent and subsidiary companies are not responsible for any damage caused by the misuse and/or mishandling of Li-ion (Lithium-ion), LiPo (Lithium-ion Polymer) and any rechargeable batteries and chargers.